The countdown is on to the Magic Millions Gold Coast Yearling Sale and with it, the most anticipated catalogue from Musk Creek Farm to date. Myles Deering spoke with farm manager Scott Williamson to break it all down and reveal the key takeaways from their draft.

MYLES DEERING: Scott, many of the buying bench have been restricted from travelling interstate or simply prefer to wait until all yearlings are together on the Gold Coast. So, I want hear from you about each one and teach all of us about the character and physical behind these yearlings.
---
LOT 53 – F MEDAGLIA D'ORO X APOLOGYNOTACCEPTED (FUSAICHI PEGASUS)
MD: This is a rare opportunity for the Magic Millions buying bench. The sire has not shuttled to Australia since 2017. There is no Danehill in the pedigree and my initial thought is the Sadler's Wells-Fusaichi Pegasus cross leans toward a stronger, American type. What has your impression been of the filly so far?

SCOTT WILLIAMSON: This is a tough filly. She probably has a bit more strength than the Medaglia d'Oros out there. They can be quite long in the body and a bit weak in behind. But this filly has good strength and definition in the chest. For a first foal she was not going to be a giant, but she is good-sized.

MD: She does look to have a deep girth and powerful shoulder as well, based on the official photos. Might we expect an early running type?
SW: Absolutely. This is an incredibly forward filly. She is always in a rush to do things. Put her on a walker and she wants to lunge. If you ask her to trot, she wants to canter. If she sees something in front of her, she wants to chase after it. There is eagerness in whatever she does here. You could almost break her in straight after the sales, and I feel the break-in process will be great because it will give her something to focus on.

MD: And that's the thing. Racehorses these days are not necessarily racing against the clock. They are racing against each other. So you need a thoroughbred that is eager and willing to go through a brick wall for you. A real competitor. By the sounds of it, this filly may fit the bill.
---
LOT 217 – F I AM INVINCIBLE X DEIPARA (LONHRO)
MD: I have read that this filly drew significant attention from the major auction houses months ago. Her half-sister (by Exceed And Excel) was rated by you as a well-grown, strong type. Deipara is one of the broodmares Musk Creek Farm values immensely and was bought at a premium. So, with an I Am Invincible yearling to offer, your expectations must be high. What can you tell us?

SW: This is a really exciting yearling, no question. There is plenty of strength, good size and legs – and a superb hindquarter. She has both an outstanding physical and a super temperament. She is quiet on her own – just with you. But put her among other horses and she turns into a real competitor, stamping her authority. She plays boss and lets them know who is in charge.

MD: How does she compare with her Exceed And Excel half-sister from last year?

SW: It is very evident, being a second foal. The Exceed And Excels also tend to be a bit small, and this filly has more size and scope and length of rein than her half-sister at the same time.

MD: The I Am Invincible fillies were winning Stakes races week-in, week-out over the Spring Racing Carnival. Libertini, Dame Giselle, Fiesta, California Zimbol, Parlophone and Fake Love.

SW: We had David Eustace from Ciaron Maher Racing out here recently to inspect, and of course that stable has experienced the very best of I Am Invincible progeny in Loving Gaby.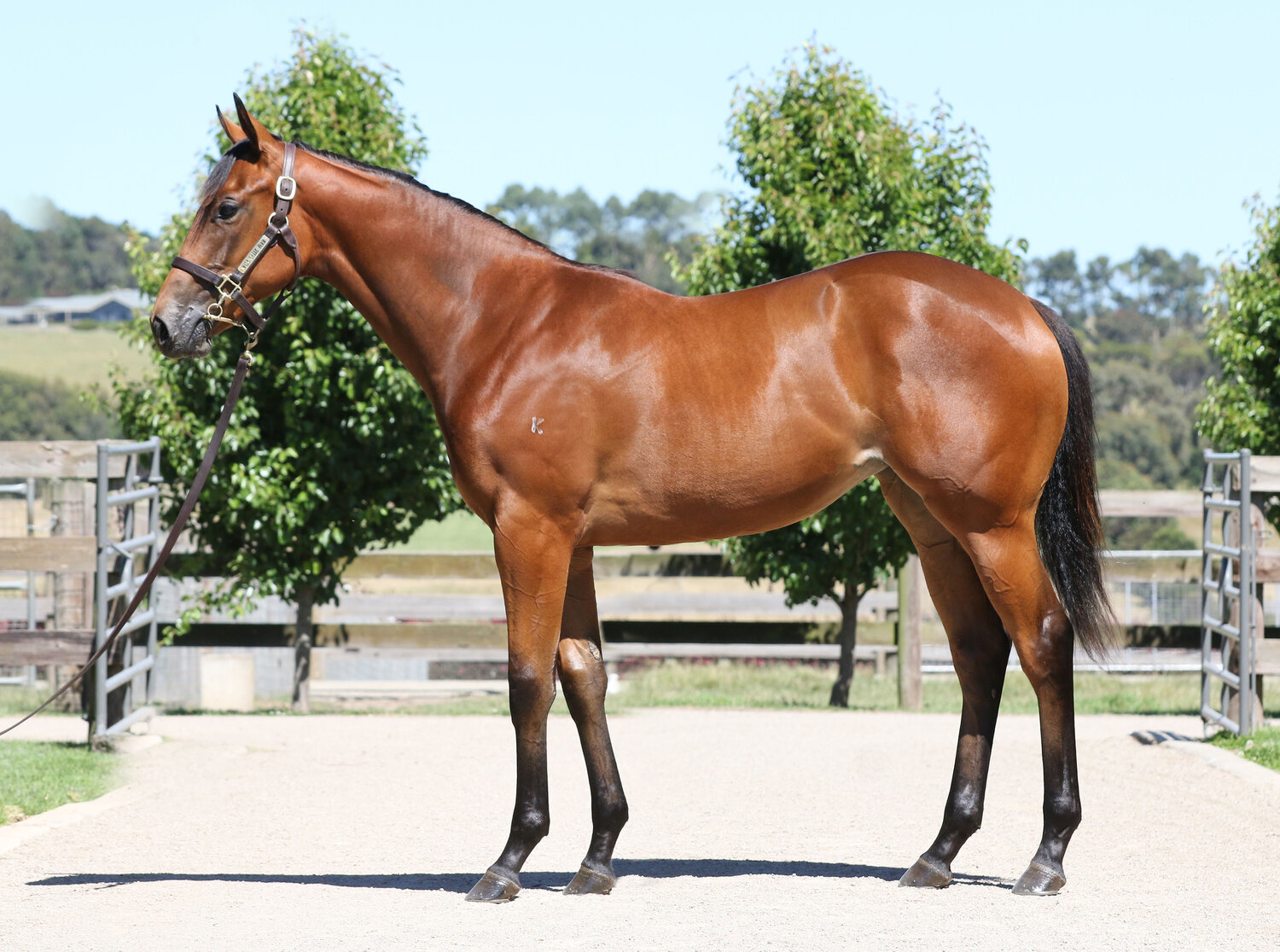 ---
LOT 477 – F SEBRING X LENY'S HERE (HUSSON)
MD: All the Sebrings will receive some extra attention given that 2021 will be his final crop entering the sales ring. This filly has developed differently to the rest of your draft. Explain.

SW: When the sales companies saw her as a weanling, she lacked strength. The rest of the draft were moving forward, and we had hoped she would follow suit. But she has since furnished up noticeably to my eye. And now? She is rounding off her preparation ideally.
She is also very athletic and that has been the case the whole time. It is a bit cliched, but she truly walks like a panther. All the fundamentals are there: she drops her head, moves fluently and methodically, and has a lovely overstep. I think she could be our surprise package of the sale.
---
LOT 635 – C SPIRIT OF BOOM X PERSONALISED (SNITZEL)
MD: No other yearlings in this draft received a pedigree boost quite like the Personalised colt over the Spring. The dam is a half-sister to Personal, and she just kept getting better up to and including the VRC Oaks rout. The colt is a first foal, and there is Dundeel and Zoustar progeny out of the mare to come, but there is clearly more than enough to pique the interest of the buying bench.

SW: First, he looks nothing like a first foal. You would think Personalised has had several foals already before this one. He is all quality and would be one of our biggest yearlings to attend the sale. This is a very good first foal that is hard to fault. List the boxes and he ticks them all: correct, good bone and great temperament. But he also boasts the flashy look of his dam and her half-sister, Personal, with the big, white face. He is a striking individual, and I certainly think he will draw all the attention.
MD: I know this Magic Millions sale has global pull, but we're still on the Gold Coast and locally, Spirit of Boom was crowned Queensland's Champion Sire for the second season in a row. I would expect his yearlings will appeal even more so to a unique section of the buying bench. In saying that, this colt has the Personify-Procrastinate family in his blood. These dams have bred notable Stakes horses who were winners as juveniles. Personify is by Galileo and she won the Queen Adelaide Stakes at 2, and she is dam of a Blue Diamond Stakes place getter. Now, we have Personalised's first foal, out of a mare that you and Craig Rounsefell bought for $525,000.

SW: There are nearly 50 yearlings by Spirit of Boom that will sell, so there will be plenty of options to choose from, but I believe that this colt is among the best of them.
---
LOT 977 – C FIGHTING SUN X LEAPS AND BOUNDS (ASTRONOMER ROYAL)
MD: This colt has been entered into Book 2 of the sale, but I think Fighting Sun gets under-rated a little. You put his Smart Missile half-sister through the sales last year, and she was described as an athletic, forward type. Considering that Fighting Sun was a juvenile Stakes winner, does this colt give the impression of a runner as well?

SW: I think so. Fighting Sun can clearly get an early type; Gulf of Suez has demonstrated that recently. And I think Leaps And Bounds is the right sort of mare to continue that trend. From what I have seen, this colt looks like he will go forward early. He is very correct and on type he is as good as anything in Book 1. He looks like nothing will go wrong with him – just completely sound. To be honest, I look at him and think, he wouldn't be out of place heading back to race on the Gold Coast in 12 months' time.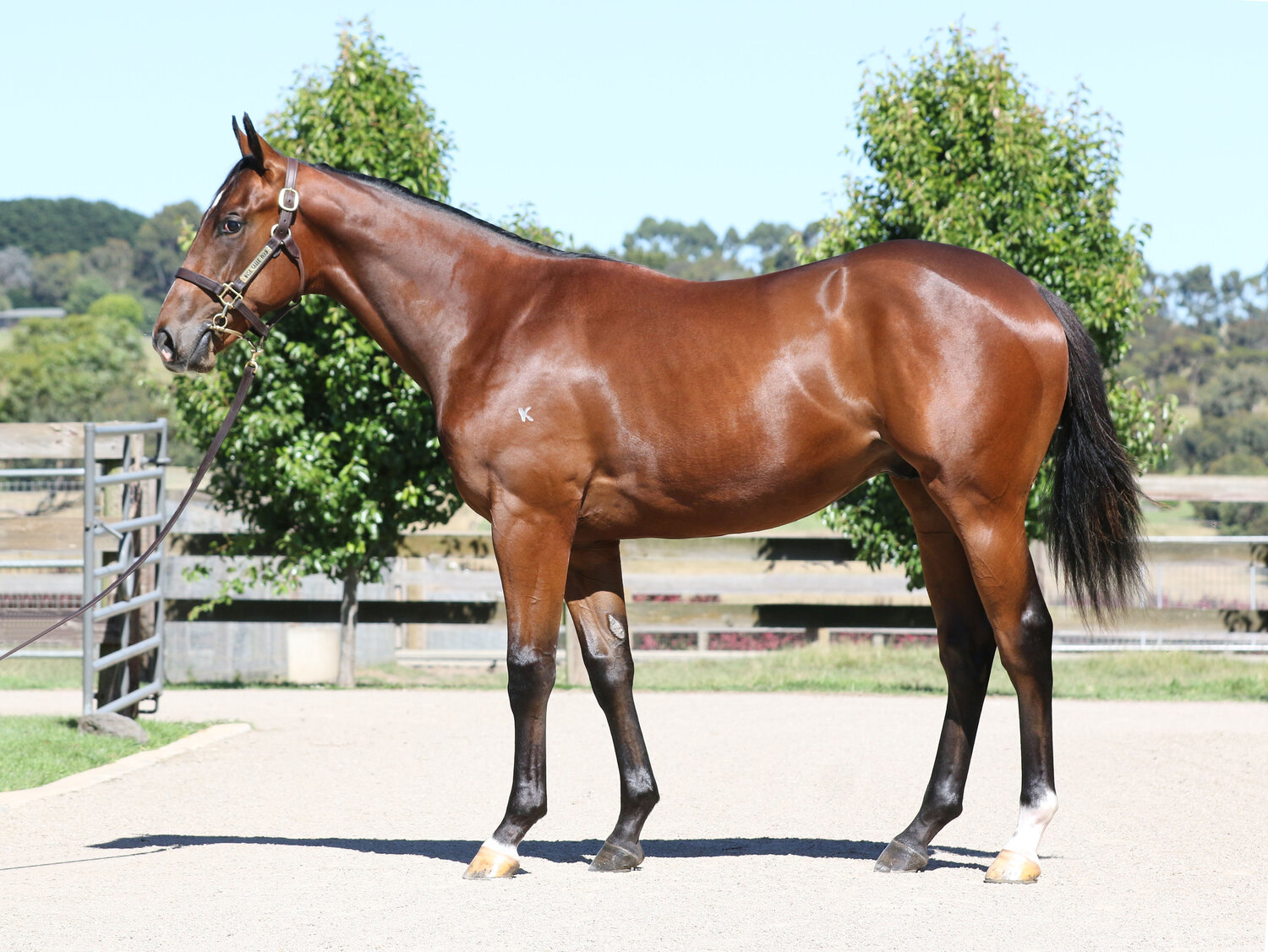 ---
SUMMARY
MD: Okay, survey time. I'm going to rattle off some questions and you fire back. On paper – just from reading catalogue pedigrees, not based on physical – which yearling excites you the most?

SW: That is a tough one because the thing is our draft this year is full of fillies with good female families packing residual value. Even the Spirit of Boom colt runs deep with black type underneath his pedigree.

But if I had to pick one, it would be the I Am Invincible filly out of Deipara, who is a daughter of the multiple Group 1 winner Divine Madonna. I'm so excited to see what she can do, and I have such faith in the broodmare. This filly is the reason we bought Notre Dame – Deipara's half-sister – for $320,000 earlier this year and have invested in the bloodline with world-class stallions. So this filly holds a lot of weight for us.

MD: I think we know the next one: which yearling has improved the most physically and mentally the past few months?

SW: The Sebring, for sure. She has gone from what was a leggy frame – but athletic, still – into a fully-furnished, good-sized, strong filly – and quite striking to look at as well.

MD: Which yearling has the most European-looking physical?

SW: Hmm. This takes me right back to previous experience in Britain and Ireland, and I'm trying to recall how they looked. It might be the Sebring, again, because of her length of rein and her type, so possibly her.

MD: Which yearling has the biggest hindquarter?

SW: The I Am Invincible filly. She is just so strong. We have been lunging her and all I have been able to say at the time is just that. She is strong, well-toned and does it all so easily.
"She has gone from what was a leggy frame – but athletic, still – into a fully-furnished, good-sized, strong filly – and quite striking to look at as well.
— Scott Williamson describes Lot 477: f Sebring x Leny's Here (Husson)
MD: Which yearling is the tallest?

SW: I haven't exactly measured them lately.

MD: Okay, let me rephrase: who has the most imposing presence? There would be a yearling that is so-and-so tall but feels more intimidating than what the measurements may suggest.

SW: It could be either the Sebring or the I Am Invincible or the Spirit of Boom colt. A couple of them are getting into six-foot rugs, they are just so forward. I have noticed the I Am Invincible feels the biggest of them all just when you are leading her along.

MD: Which yearlings have a pedigree that suggested one type, but in fact have thrown much different? For example, a sprinter's pedigree but you are seeing a miler or something else.

SW: The Spirit of Boom colt is by a sprinter out of a Snitzel mare, but he looks like a miler and could get over a bit more ground in time. He is probably the most obvious one.

MD: Name the yearlings that should be absolute runners from day one.

SW: The Medaglia d'Oro filly and the Fighting Sun colt. You could almost put a saddle on them tomorrow and they would do something useful.

MD: Who is the most manly-looking of the fillies?

SW: The I Am Invincible.

MD: Which yearling has surprised you with how good they are looking?

SW: Come on, Myles – it's all five of them! But I will say it's the Sebring again, above all.
"The whole draft is generally more precocious and forward than in previous years. This is because they had a better starting point and we have improved the routines and systems here.
— Scott Williamson summarises the group.
MD: Good comeback. And they should all be surprising you, really. We are witnessing a new era of Musk Creek Farm yearlings coming through. Which should segue into my next question smoothly, I hope. What have you noticed among these yearlings that is different to previous seasons?

SW: The whole draft is generally more precocious and forward than in previous years. This is because they had a better starting point and we have improved the routines and systems here. What you will find is the yearlings are bigger, healthier, and stronger from day one. And buyers will notice sales just how forward they are. It is certainly not through overworking or pushing them too hard. They just seem to be naturally more precocious.

MD: The farm is planning ambitiously in the years ahead. Is there anywhere in particular in this draft where it will be evident just how motivated the farm is in aiming high? Or will it be obvious across the board?

SW: I think the whole draft. Every yearling is from a mare we have purchased in the last few years. They are all-new mares and matings that have been carefully selected or mares bought in utero. We've identified pedigree and type and put great emphasis on buying broodmares with a higher quality physical who would carry those traits down to our yearlings. I mean, we want them to be producing those top-class types. You will see evidence of our long-term planning in these yearlings, for sure, as they are from cracking types of mares and by the very best of stallions. We have the only Medaglia d'Oro yearling at the sale and a colt out of a half-sister to a newly crowned Group 1 winner. There is simply loads of quality coming through and plenty of upside for buyers – especially with the fillies.

MD: We are a month gone since the catalogue was released and Musk Creek Farm opened their doors for inspections. We are grateful to have complete freedom of movement and the ability to entertain again. So tell me, what has the response been like from the visiting buying bench?

SW: People are telling us it is the best draft we have ever presented as an organisation. The good thing is when we have questioned buyers who their favourite yearling was, we tend to receive a different answer every time. There is no standout that leaves the rest behind; there are five quality horses capturing their attention. Everyone has different tastes and are searching for different things and Musk Creek Farm are catering for everyone.