Five up. Five down. That was the draft's goal. And the goal was met. Some fortunes were thrilling. Others fair. But above all, it was vindication that Musk Creek Farm's long-term plan is on course.

The highlight was witnessing the Spirit of Boom colt out of Personalised sell for AUD$575,000 – a top seller for the current management team headed by Scott Williamson. With repeat pre-sale interest and several bidders in the ring, the price soared in rapid time before falling to Gollan Racing.

Then there were results that pleased for reasons other than just price tag. Star Thoroughbreds – who have bought Musk Creek Farm homebreds since 2011 – teamed up with Randwick Bloodstock to buy the I Am Invincible filly out of Deipara for AUD$320,000. Prime Thoroughbreds landed with the Sebring filly out of Leny's Here for AUD$130,000. Their principal, Joe O'Neill, made his return after selecting another Sebring homebred from the Musk Creek farm draft at Magic Millions one year ago.
"We want buyers to be sure what our brand stands for."

— Farm Manager Scott Williamson
While they sold high, they also sold in ways that represent deeper meaning to Scott Williamson and David Kobritz. It demonstrated a sense of loyalty to the K-brand. Which is the idea behind the Musk Creek Farm model. Build a brand that buyers will know and trust and can relate to. To achieve this, they must produce an authentic, quality K-branded thoroughbred, from rearing through to auction.

'We want to make sure that we produce a horse that people can race, that people can get enjoyment out of racing, and that the horse stands up to racing. And we want the horse to have a good level of ability, so people keep coming back to us year after year,' Williamson declared.

'The reason why we invested in our broodmares and put emphasis on home-grown stock was to grow our own brand and stand behind it. We didn't want to dilute it with pin-hooks. We want buyers to be sure what our brand stands for. We want them to approach our draft and if they ask where they come from, we can say "no, they are home-grown, they are ours."'

The Magic Millions Gold Coast Yearling Sale tested the waters on the performance of pure K-brand bloodstock. All five yearlings were bred and raised at the Flinders farm. The four offered in Book 1 sold at an average sales price higher than the overall average of Book 1, from Tuesday through Saturday.

And chief among them was the Personalised colt.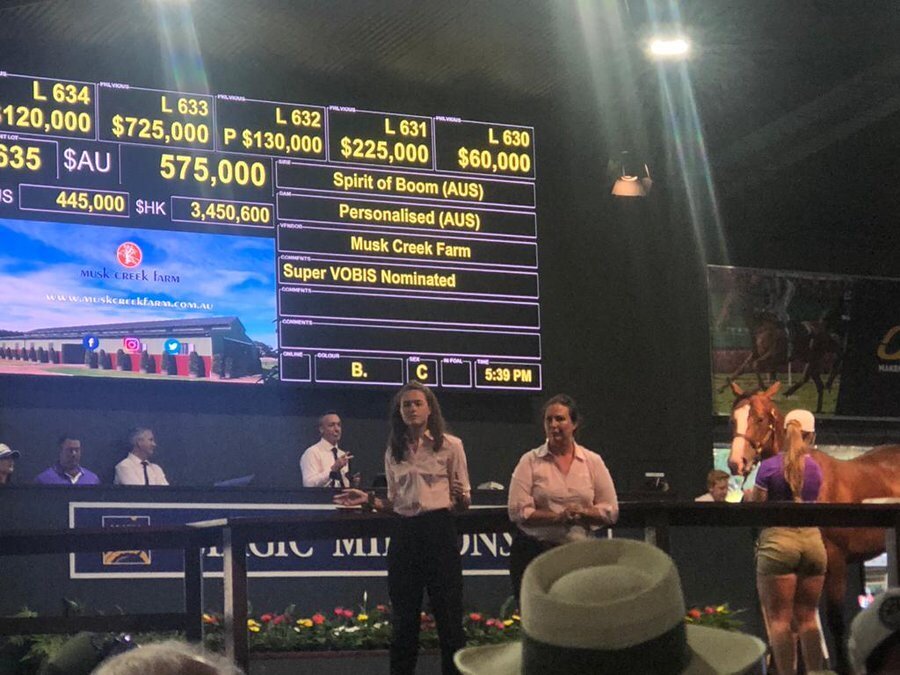 'We had plenty of interest – with 18 X-ray hits, we could tell – but he was a hard horse to value,' Williamson said.

'The Spirit of Boom yearlings this year were from the best mares he had ever experienced. And we know he has had yearlings sell for over $400,000 before. But for him to become the highest-priced Spirit of Boom was great.'

Potential buyers for the colt were spread across the Eastern states as well as agents representing Hong Kong interests. But trainer Tony Gollan was feeling nostalgic. He was on a mission. And he had renowned bloodstock agent John Foote backing him in his corner.

'[John] thought the colt was as good as anything on the sale complex. And he's as good as judge as anyone. It was particularly pleasing to have someone like John rate him,' Williamson said.

'Tony had assembled a team with a budget to spend on Spirit of Boom yearlings. And they spent quite a sizeable amount on our offering, which was nice that they thought a lot of him.'

The sale is a hot start for Personalised, the broodmare bought for AUD$525,000 carrying the Spirit of Boom yearling as her first foal. She will offer a Dundeel colt next year and is currently in foal to Zoustar.
The I Am Invincible filly out of Deipara was strongly rated by Williamson in the build-up. Her result satisfied the Musk Creek Farm team, despite tough competition.

'She was up against a lot of fillies by the sire, who were coming out of impressive farms, including Yarraman Park Stud. They do a great job selling I Am Invincibles,' Williamson said.
"It is a significant boost for Deipara to have her second foal join a great stable."

— Scott Williamson
'We think Denise Martin and Brett Howard bought a very nice horse and they were pleasantly surprised they got her at the price. For us, though, it is great because she heads to Chris Waller.

'It is a significant boost for Deipara to have her second foal join a great stable.'

The Medaglia d'Oro filly out of Apologynotaccepted reached AUD$150,000 for Kevin Corstens Racing. While she met expectations, a few factors were suspected to have played against her.

'She may have sold a little higher if she was by a sire that is in fashion in Australia today,' Williamson said.

'Great as it was to have a rare gem like a Medaglia d'Oro, she may not have been on as many buyer's lists. And with COVID-19 affecting the international presence, we didn't have the usual buyers who might be familiar with the pedigree, so she might have been a victim of that.

'I certainly believe she is a strong, turf-type horse – stronger than most Medaglia d'Oros – so I think she probably fell through the cracks.'

Williamson had a similar thought process for the Fighting Sun colt out of Leaps And Bounds, sold for AUD$45,000 to the up-and-coming Victorian trainer Andrew Bobbin.

'Fighting Sun may have been a stallion that was also under-rated or unfashionable. Buyers would just write the colt off on that. So I expected a little more for the colt, but we are there to sell, we don't want to hang around trying to deal with people in the stables afterwards if possible.'

Always the pragmatist, Williamson was happy to take $130,000 for the Sebring filly out of Leny's Here. But he had some theories, too.
"We feel it is important to meet the market first, rather than get too ambitious."

— Scott Williamson
'I think Sebrings have been difficult to sell. Both him and More Than Ready made excellent racehorses (and in the case of More Than Ready, great broodmares) but could sometimes struggle at auction, save for a season here and there.

'And the Leny's Here filly, being out of an unraced mare, and a second foal, I could sense there was a mixed reception. But we went into the ring thinking around the mark she eventually sold at.

'We feel it is important to meet the market first, rather than get too ambitious. Leny's Here was bought for $130,000 carrying a More Than Ready yearling that sold for $100,000 (now named Well Branded). Technically, Leny's Here does not owe us anything; she is now a profitable mare. And this filly joins Matt Laurie, a great stable, for Prime Thoroughbreds, who we have a great relationship with.'

This is only phase one of a multi-year plan laid out by Williamson and David Kobritz. There are remnants of the pin-hooking model still in the racing system (the final pin-hook sold last year). But Magic Millions was truly a shot in the arm for the organisation.

There was widespread belief that this draft was turned out better than any draft before. The sale prices met market demand. Now, Williamson and Kobritz can continue to pursue their mission to mould Musk Creek Farm into a sustainable, consistent producer of home-grown thoroughbreds.

'People will gain more confidence in our drafts as we focus more on our K-brand and the quality of our own product. I expect the full return will take a few years, but it is going to be so much more, with more people inspecting and showing interest in our product long-term,' Williamson said.

'The last thing we want is to be the farm that sells one expensive yearling that fails because buyers start losing confidence from there on. Of course, we are in this for the high rewards, but we want to see it over time, with buyers coming back over and over. We want to build a reputation that Musk Creek Farm is a really good boutique farm producing quality horses.'